We would like to announce a new spiecies to FF: the wolf. Unlike most pets, it cannot be posted anywhere, but it also has a few.....NEW features. You can feed it! And pet it! There is also a kitty pet, and I bet you can't figure out which one!
HINT: The first FF adoptable to ever be released!
When that original pet was released, we had many things that you would never dream of.....yet that is a story I will tell you one day, when our site becomes more amazing and popular and magnificant. Ah yes, the old days.....
Signed,
Wolfette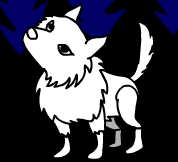 AROOOOOOOOOOOOOOOOOOO!
Last edited by Wolfette on 8/5/2009, 7:35 pm; edited 1 time in total (Reason for editing : No siggy XD)
Similar topics
---
Permissions in this forum:
You
cannot
reply to topics in this forum